Bluetooth DVR Mirror Monitor

Model: KV-4358BT

﹒Advanced OE style, 4.5 inch big screen

﹒Ultra brightness >1700cdm

﹒1080P FHD Realtime recording; 30fps

﹒Bluetooth 4.1 technology

﹒Caller ID display, Voice Navigation & Recognition.

﹒Power-reverse connection protection







﹒4.5" Ultra bright screen, brightness >1700cdm
﹒1080P Full HD DVR (1920*1080); 30fps
﹒Monitor Auto Dimming
﹒One button design. With wireless remote control
﹒Automatically on the reverse camera display (AV2) when reverse gear engaged
﹒AV1 display CVBS video
﹒3.5 Mega still capture, digital 4 x zoom in/out
﹒Full A+ Glass Lens, horizontal angle 140 degree (Super big angle for 8 lanes road)
﹒Movable camera adjustment
﹒Motion detection
﹒Multi-Languages (Chinese, English, Russian, Spanish,Portugal, Japanese)
﹒G-Sensor protection
﹒Micro-SD card recording, up to 64GB
﹒Patent design (Advanced design, with Chinese and US patents)
﹒Excellent night vision performance, super stable DVR quality performance
﹒System: PAL & NTSC Auto-Switching
﹒Power Input: 10-28 Volt DC
﹒Operating Temperature: -20℃--+70℃
﹒Storage Temperature: -30℃--+80℃
﹒Viewing Angle: L/R: 70°, Top 65°, Down 50°
﹒Guide Line: On/Off
﹒Mounting: Genius Brackets For Replacement
**************************
1. Advanced Bluetooth 4.1 technology, compared to 4.0, it has better performance as below:
a. Better connections.
b. Low energy consumption
c. Higher Transmission Speed
2. Superior voice quality
3. Caller ID display
4. Answer & Reject incoming call by pressing buttons right on the mirror
5. Voice Navigation: Once you connect your phone to our mirror, you can listen to the voice navigation from your phone, many people prefer GPS-Navigation on their Smartphone, as it's able to provide more accurate and real-time navigation information and location, but Smartphone voice is low and not clear, our Bluetooth mirror with superior quality loudspeaker brings you perfect voice navigation experience.
6. Voice Recognition, if you have got Voice Assistant like Siri on your Apple or Android phone, you can make calls hands free, and search with Siri or Google Voice Assistant.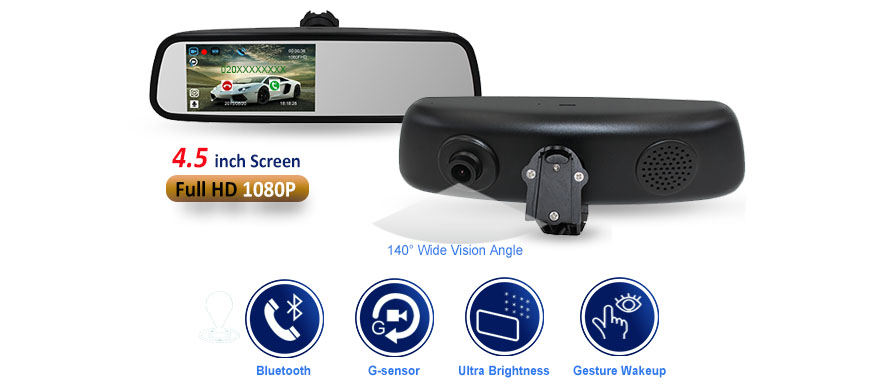 Patent: ZL 201520350322.9